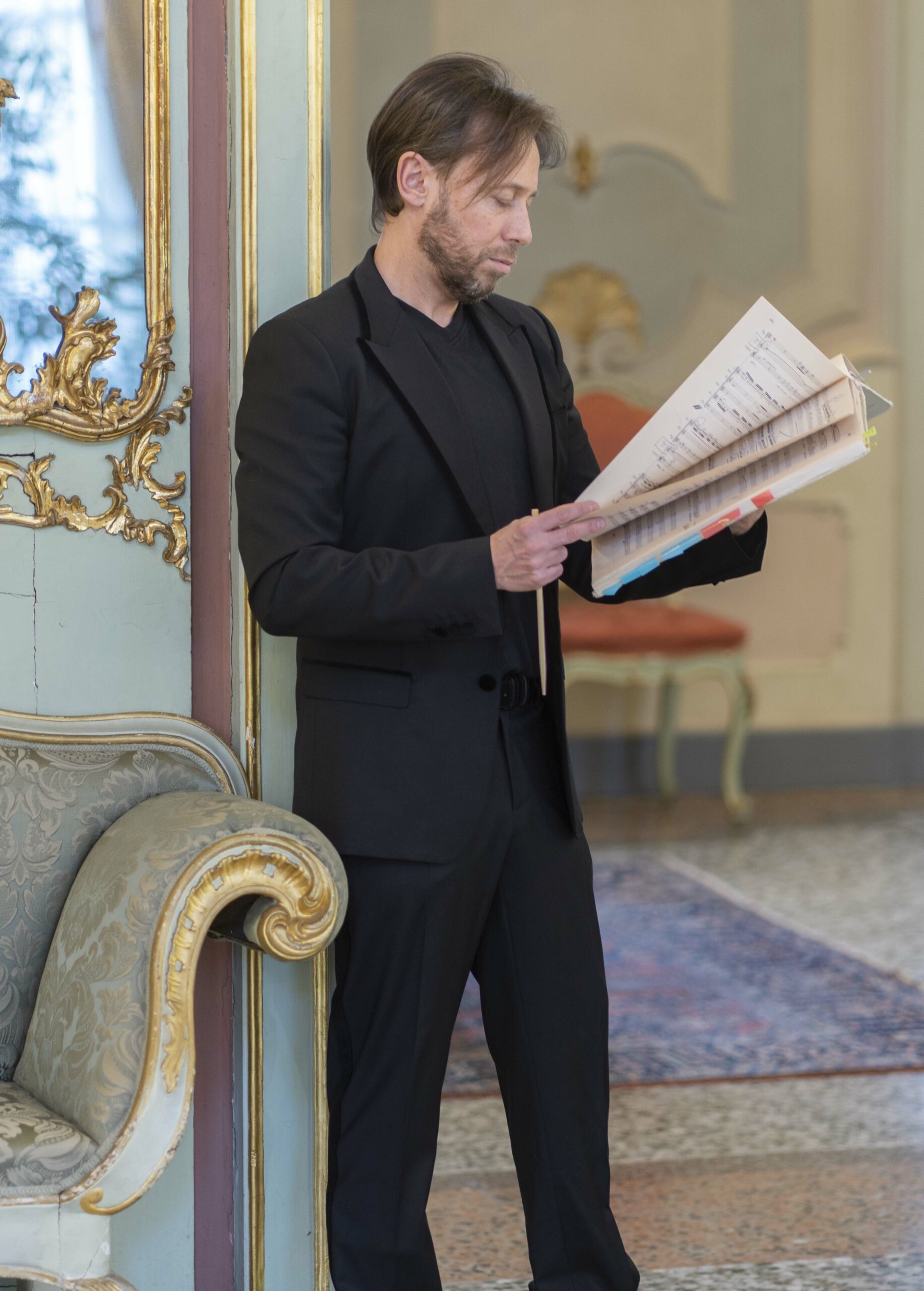 Direttore d'orchestra
Diplomato in Violino al Conservatorio "N. Paganini" di Genova e in Direzione d'orchestra al Conservatorio "G. Verdi" di Milano, debutta a vent'anni come direttore a Genova con Il Trovatore.
Sovente segnalato come uno dei giovani direttori d'orchestra italiani più promettenti e da Alberto Mattioli come uno degli undici migliori della propria generazione in un articolo de 'La Stampa', in oltre vent' anni di carriera debutta in quasi cinquanta titoli operistici spaziando dal barocco a prime esecuzioni assolute di opere contemporanee.
Lavora nella maggior parte dei teatri italiani, fra i quali Opera di Firenze, Teatro Regio di Torino, La Fenice di Venezia, San Carlo di Napoli, Massimo di Palermo, Lirico di Cagliari, Comunale di Bologna, Carlo Felice di Genova, Filarmonico di Verona, Verdi di Trieste, Regio di Parma, Goldoni di Livorno, Municipale di Piacenza, Valli di Reggio Emilia, Comunale Pavarotti di Modena, Alighieri di Ravenna, Bellini di Catania, Coccia di Novara, Sociale di Como, Fraschini di Pavia, Grande di Brescia, Ponchielli di Cremona, Comunale di Treviso, Sociale di Rovigo, Verdi di Pisa, Del Giglio di Lucca, Luglio Musicale Trapanese, Politeama Greco di Lecce, Della Fortuna di Fano, Ventidio Basso di Ascoli Piceno, dell'Aquila di Fermo, Pergolesi di Jesi, Ente De Carolis di Sassari, Dal Verme di Milano, Cilea di Reggio Calabria, Civico di Vercelli, Comunale di Vicenza, Stabile di Potenza.
Si è inoltre esibito nei Festival della Valle d'Itria e Verdi di Parma.
Non mancano prestigiosi impegni all'estero, in teatri come NCPA di Pechino, Semperoper di Dresda, Deutsche Opera di Berlino, Royal Swedish Opera di Stoccolma, Staatsoper di Amburgo, Staatsoper di Stoccarda, Aalto Theater di Essen, Essener Philharmonie, Oper Graz, Teatro dell'Opera di Montpellier, Staatstheater di Darmstadt, Theater Lübeck,  Baluarte di Pamplona, Principal di Palma de Mallorca, Principal de Mahón, Festival Spoleto/Charleston (U.S.A), Xi'An Concert Hall, Paphos Opera Festival, Teatro Arriaga di Bilbao, Miskolc Bartók Opera Festival, e con orchestre quali Sächsische Staatskapelle Dresden, Orchestra Sinfonica di Goyania, Orchestra Filarmonica Nazionale Lettone, NWD Philharmonie, Orchestra Statale dell'Hermitage, Orchestra Filarmonica di San Pietroburgo, Orchestra Sinfonica delle Baleari.
Nel 2008 dirige i recital di Jonas Kaufmann a Monaco di Baviera e Amburgo.
Incisioni e registrazioni
Registra i DVD de Il Campanello di Donizetti per la Bongiovanni, Viaggio a Reims di Rossini, Aida e Rigoletto di Verdi per Sky Classica HD e incide il CD di Don Checco di De Giosa per la Dynamic.
Direttore artistico
Nel 2018 viene nominato direttore artistico ad interim del Teatro Coccia di Novara ideando e presentando la stagione lirica, balletto, concertistica e prosa 2018/19.
Segnalata sulle riviste specializzate come una delle più interessanti tra le stagioni d'opera italiane, quella del 2018/19 ha segnato un record quantitativo di titoli proposti: dai 5/6 titoli operistici degli anni precedenti si è passati a 8, a cui si aggiungono 2 balletti, una produzione d'opera per le scuole, una stagione sinfonica praticamente raddoppiata rispetto all'anno precedente, 6 titoli di prosa, musical e varietà. Degli 8 titoli operistici 7 sono coprodotti con teatri e festival nazionali e internazionali; il Rigoletto, opera inaugurale della stagione, viene coprodotto con l'Ente De Carolis di Sassari e registrato da Sky Classica HD.
La qualità particolarmente alta dei nomi degli artisti in cartellone (il regista Robert Carsen per la prima volta a Novara per citarne uno) riporta al Coccia la critica nazionale e internazionale.
Sempre durante l'esperienza di direttore artistico crea l'accademia del Teatro Coccia, rivolta a cantanti e direttori d'orchestra, poi ribattezzata, nel 2019, "AMO" (Accademia dei Mestieri dell'Opera) vincendo  un bando triennale della Fondazione Cariplo di 480.000 euro.
Nel 2018 inoltre dà vita al Festival "Fuori di Coccia", di cui è tuttora direttore artistico, che ha il preciso intento di valorizzare il patrimonio musicale della Cappella del Duomo di Novara attraverso esecuzioni in prima assoluta in tempi moderni di composizioni scritte dai vari musicisti che vi si sono succeduti alla guida dal Seicento al Novecento. Nel 2019 il Festival vince il bando SIAE "Per chi crea".
Da gennaio 2021 è Direttore Artistico del rinato Concorso Lirico Internazionale G. Di Stefano e dell'Ente Luglio Musicale Trapanese durante la cui 73° stagione lirica si sono esibiti per la prima volta alcuni dei più prestigiosi artisti del panorama lirico internazionale.
Direttore musicale
A seguito di una fortunata e proficua collaborazione artistica con il teatro novarese in cui, dal 2012 al 2016, dirige Lucia di Lammermoor, Norma, Turandot e un Viaggio a Reims applaudito da critica e pubblico e ripreso da Sky Classica HD, viene nominato, nel marzo 2017, direttore musicale del Teatro Coccia.
Sotto la sua supervisione viene siglato un accordo di collaborazione con il Conservatorio Cantelli di Novara per la formazione di un' orchestra a cui affidare una parte della produzione musicale del teatro. La programmazione vede un incremento quantitativo e qualitativo più volte sottolineato da tutte le testate giornalistiche di settore, tra cui OperaClick che per tre anni consecutivi inserisce una produzione del Coccia tra le migliori dell'anno. Vengono siglati accordi di coproduzione con molti teatri e festival italiani, tra cui il Maggio Musicale Fiorentino e il Festival di Spoleto, e stranieri, tra cui Théatre des Bouffes du Nord e Bartok Plusz Operafestival e si succedono sul palcoscenico e in buca prestigiose orchestre nazionali e internazionali.
Sky Classica riprende, oltre al Viaggio a Reims, Aida e Rigoletto.
 Docente
È docente di Esercitazione orchestrale presso il Conservatorio "G. da Venosa" di Potenza dal 2007 al 2013.
Nella stagione 2012/13 è docente all'interno di L.T.L. Opera Studio con l'opera Napoli Milionaria, progetto che si aggiudica il prestigioso Premio Abbiati.
Al Conservatorio Verdi di Milano tiene una masterclass su Le Nozze di Figaro di Mozart nel 2016 e e nel 2020 una su Rigoletto.
Nel 2018 crea l'Accademia del Teatro Coccia di Novara, di cui è tuttora docente di direzione d'orchestra.
Nel 2018 e nel 2021 è invitato come docente al Corso per cantanti lirici al Teatro Comunale Luciano Pavarotti di Modena
Presenze come giurato in concorsi internazionali
È chiamato costantemente a far parte di giurie di concorsi internazionali di canto tra cui il "Renata Tebaldi", "Salvatore Licitra", "Magda Olivero", "Adriana Maliponte", "Spiros Argiris", "Etta Limiti", "Salice d'oro".
Nel 2019 è presidente di giuria del Concorso Internazionale Valsesia Musica, sezione canto lirico.
Dal 2010 viene incaricato dalla direzione artistica per formare la giuria del Concorso "Equivoci Musicali", poi "Salvatore Licitra".
Nel 2020, in qualità di direttore musicale del Teatro Coccia, collabora alla realizzazione del Premio Cantelli, il prestigioso concorso per direttori d'orchestra, a cui prende parte come giurato.
Nel 2021 è direttore artistico del Concorso Lirico Internazionale G. Di Stefano
aggiornato al 11 gennaio 2021
---
English version
Conductor
After graduating in Violin from the "Niccolò Paganini" Conservatory in Genoa and in Conducting from the "Giuseppe Verdi Conservatory in Milan, Matteo Beltrami made his debut as a conductor at twenty years of age in Genoa with Il trovatore.
Often referred to as one of the most promising Italian young Italian conductors and called by Alberto Mattioli as one of the best eleven conductors of his generation in an article published on "La Stampa", in over twenty years of career he has debuted almost fifty operas ranging from the Baroque to world premieres of contemporary works.
Matteo Beltrami is active in most Italian opera houses including Teatro del Maggio Musicale Fiorentino, Teatro Regio Turin, Teatro La Fenice Venice, Teatro San Carlo Naples, Opera Carlo Felice Genoa, Teatro Filarmonico Verona, Teatro Verdi Trieste, Teatro Regio Parma, Teatro Goldoni Livorno, Teatro Municipale Piacenza, Teatro Valli Reggio Emilia, Teatro Comunale Luciano Pavarotti – Mirella Freni Modena, Teatro Alighieri Ravenna, Teatro Massimo Bellini Catania, Teatro Coccia Novara, Teatro Sociale Como, Teatro Fraschini Pavia, Teatro Grande Brescia, Teatro Ponchielli Cremona, Teatro Comunale Treviso, Teatro Sociale Rovigo, Teatro Verdi Pisa, Teatro del Giglio Lucca, Luglio Musicale Trapanese, Politeama Greco Lecce, Teatro della Fortuna Fano, Teatro Ventidio Basso Ascoli Piceno, Teatro dell'Aquila Fermo, Teatro Pergolesi Jesi, Ente De Carolis Sassari, Teatro Dal Verme Milano, Teatro Cilea Reggio Calabria, Teatro Civico Vercelli, Teatro Comunale Vicenza, Teatro Stabile Potenza.
Maestro Beltrami has also performed at the Festival della Valle d'Itria and at the Festival Giuseppe Verdi of Parma.
Matteo Beltrami's prestigious engagements outside Italy include performances at the Deutsche Oper Berlin, Semperoper Dresden, Hamburg State Opera, Stuttgart Opera, Aalto Theater Essen, Staatstheater Darmstadt, Theater Lübeck, Oper Graz, NCPA Beijing, Opéra Orchestre national Montpellier Occitanie, Baluarte Pamplona, Teatre Principal de Palma, Teatro Principal De Maó, Festival Spoleto/Charleston U.S.A., Xi'An Concert Hall, Pafos Aphrodite Festival, Teatro Arriaga Bilbao, Miskolc Opera Festival, and with orchestras such as Sächsische Staatskapelle Dresden, NWD-Philharmonie, Orchestra Symphonica de Goiania, The Latvian National Symphony Orchestra (LNSO), State Hermitage Orchestra, Orquestra Simfònica de les Illes Balears.
In 2008 he conducted Jonas Kaufmann's recitals in Munich and Hamburg.
Recordings
Matteo Beltrami's recordings include the DVD of Donizetti's Il campanello for Bongiovanni, Rossini's Il viaggio a Reims, Verdi's Rigoletto and Aida for Sky Classica HD and the CD of De Giosa's Don Checco for Dynamic.
Artistic Director
In 2018 Matteo Beltrami was appointed Acting Artistic Director of the Teatro Coccia of Novara, programming and presenting the 2018/19 opera, ballet, concert and theater season.
Indicated by specialized magazines as one of the most interesting Italian opera seasons, the 2018/19 Teatro Coccia season marked a record regarding the number of performed operas: from the 5 or 6 of previous years to 8, with 2 ballets, an opera production for the schools, and a symphonic season virtually doubled in number compared to the previous year, as well as 6 straight plays, musicals and variety shows. Out of the 8 operas, 7 were co-produced with Italian and international opera companies and festivals; Rigoletto, the inaugural opera of the season, was co-produced with Ente De Carolis Sassari and recorded by Sky Classica HD.
The particularly high quality of the artists involved in this season (stage director Robert Carsen, for the first time in Novara, just to name one of all) brought Italian and international critics back to the Teatro Coccia.
During his period as Artistic Director he also created the Academy of Teatro Coccia, for singers and conductors, subsequently renamed in 2019 "AMO" (Accademia dei Mestieri dell'Opera, or Operatic Professions Academy), winning a triennial competitive tender offer of €480.000 put out by Fondazione Cariplo.
Moreover, in 2018 he also created the Festival "Fuori di Coccia", of which he is still Artistic Director, which intends to promote the musical heritage of the Chapel of the Cathedral of Novara through first performances in modern times of compositions written by the numerous composers who served as "maestri di cappella" from the 17th to the 20th century. In 2019 the Festival won the SIAE competition "Per chi crea".
Since January 2021 Matteo Beltrami has been Artistic Director of the reborn Concorso Lirico Internazionale Giuseppe Di Stefano and of the Ente Luglio Musicale Trapanese: during its 73rd season some of the most prestigious artists of the international operatic scene performed there.
Musical Director
Following a fortunate and fruitful artistic collaboration with the Novara theater where, from 2012 to 2016 he conducted Lucia di Lammermoor, Norma, Turandot and one production of Il viaggio a Reims highly acclaimed by audience and critics alike and recorded by Sky Classica HD, Matteo Beltrami was appointed musical director of the Teatro Coccia in March 2017.
Under his supervision a collaboration agreement with the Guido Cantelli Conservatoire of Novara was signed for the creation of an orchestra to which entrust part of the musical production of the theater. The result was a qualitative and quantitative increase often highlighted by all the specialized magazines, including Operaclick, which for three years indicated a Teatro Coccia production as one of the best of the year. Co-productions agreements were signed with many Italian and international festivals, including the Maggio Musicale Fiorentino and the Spoleto Festival, the Théatre des Bouffes du Nord and Bartók Plus Opera Festival; prestigious Italian and international orchestra followed one another on stage and in the pit.
Sky Classica HD records Aida, Rigoletto and Il viaggio a Reims.
Teaching Activity
Matteo Beltrami taught Esercitazione Orchestrale (Orchestral Practice) at the "Gesualdo da Venosa" Conservatory in Potenza from 2007 to 2013.
In the 2012/13 season he was a teacher for the L.T.L Opera Studio with the opera Napoli milionaria, a project that won the prestigious Abbiati Award.
At the Giuseppe Verdi Conservatoire in Milan he held a masterclass about Le nozze di Figaro in 2016 and one about Rigoletto in 2020.
In 2018 he created the Academy of the Teatro Coccia of Novara where he still teaches orchestral conducting.
In 2018 and 2021 he was invited as a teacher at the class for opera singers at the Teatro Comunale Luciano Pavarotti – Mirella Freni in Modena.
Jury Member in International Competitions
Matteo Beltrami is regularly invited as a jury member in international voice competitions such as the Renata Tebaldi International Voice Competition, Salvatore Licitra Opera Competition, Magda Olivero International Voice Competition, Adriana Maliponte International Voice Competition, Spiros Argiris Competition and the Salice d'oro Competition.
In 2019 he was the Jury President of the Concorso Internazionale Valsesia Music, operatic singing subdivision.
Beginning 2010 he was appointed by the artistic direction to form the jury of the competition "Equivoci musicali", later renamed "Salvatore Licitra".
In 2020 as musical director of the Teatro Cocca he collaborated to the creation of the Cantelli Award, the prestigious competition for conductors, to which he takes part as a jury member.
In 2021 he was artistic director of the Giuseppe Di Stefano International Voice Competition.
2022/2023 Season
Matteo Beltrami's engagements for he 2022/2023 season include Nabucco at the Hamburg State Opera, La traviata at Oper Graz, a new production of La Cenerentola at Oper Köln, La bohème at the Teatro Principal de Palma, Il trovatore at the Teatro Municipale di Piacenza and Cherubini's Requiem in the Cathedral of Piacenza (within the season of the the Teatro Municipale), and Lucia di Lammermoor at the Deutsche Oper Berlin.